Doshisha University is a liberal school granted university status in 1920 but founded already in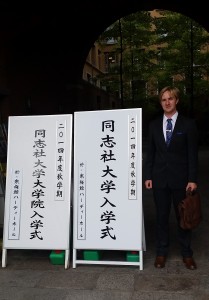 1875 by Joseph Hardy Neesima. He became one of the six great educators of the Meiji era. Liberalism, Internationalism and Christian Principles are the three educational pillars since the foundation. Students are encouraged to nurture a sense of freedom, independence and conscience. The school was originally funded by donations from US churches and charities to promote Christianity in Japan. Doshisha introduced new thoughts into the Japanese society and is today one of Japan's most prestigious private universities, ranked 16 in terms of difficulty to get enrolled at- Truly strong universities ranking (本当に強い大学 Hontou ni tsuyoi daigaku).
I consider enrolling in this master program to be a major commitment and investment in my future. One that will not only help to expand my knowledge but also provide me with a platform for the next step in my career. It's an MBA degree which will  prepare me for success at the highest level by equipping me with specialist knowledge of doing international business in Japan.
Joseph Hard Neesima
In the summer of 1864 the brig Berlin, owned by Thomas Walsh & Co., of Nagasaki, arrived at Hakodate, consigned to Frederic Wilkie, Esq., in command of William B. Savory, of Salem, Mass. Just before leaving on the return voyage to Shanghai, Captain Savory was informed by Mr. Wilkie that a young Japanese, the friend of a native clerk in his office, was anxious to escape from Japan to the United States, where he hoped to obtain an education. Reminding the captain that serious consequences were likely to follow his detection in the act of taking a native out of the country, Mr. Wilkie called the young man, then about twenty-one years of age, into his office, and Captain Savory, through the clerk, Mr. Munokite, who acted as interpreter, offered him a pas-
sage to Shanghai provided he could reach the brig without assistance from those on board, and promised to do what he could towards securing his transfer to some vessel returning to the United States. As a result of this proposition, Mr. Munokite assisted his friend on board the Berlin during the night of July 18th. Owing to the presence of Japanese custom officers on the vessel, the runaway was secreted in one of the cabin staterooms, and given to understand by signs that he must remain in hiding until the brig was under way. " I shall never forget," writes Captain Savory in 1888, " the first interview I had with him, or how happy he felt when he saw the shores of his country fading from his view, knowing that he was safe from all harm. His sole aim then was to learn the English language, that he might be able to translate the Bible into his own tongue for the benefit of his countrymen."< Chapter 1- Life and letters of Joseph Nardy Neesima