About Japan
Web Japan is a web page with extensive information about Japan. It covers the latest trends and hosts the newspaper Nipponia. Web Japan is sponsored by the ministry of foreign affairs of Japan.
Highlighting Japan is an electronic paper given out by Japans government . It explains and describes Japan from many different views. For example policies, humans, lifestyle, culture, science, and the environment.
Japan-Guide is a site that has a lot of useful tourist information.
Gaijinpot is one of the largest websites for foreigners in Japan.
Kanto area(Tokyo)
Metropolis is the nr.1  English newspaper about Tokyo.
Kansai area (Osaka, Kyoto, Kobe)
The Kyoto Shimbun, Kansai scene and Kansai 360 good are sites for news about the Kansai area.
Places: The Official Kyoto Travel Guide, Kyoto Guide, Abandoned Kansai and Eat and drink Kyoto,
Kyoto: Fushimi Inari Shrine(伏見稲荷大社 Fushimi Inari Taisha). The fox shrine outside Kyoto is known for its "thousand gates". An amazing place that truly lives up to its name.
Kyoto: Kurama temple(鞍馬寺 Kurama Dera). This temple lies at Kurama, a rural town in the northern mountains of Kyoto. You take a small local tram that goes from demachyanagi station. I recommend going there in May for the Wesak festival if you are interested in Japanese religion.
Mie: Grand Shrine of Ise(伊勢神宮 Ise Jingu). Two of the most sacred shrines of Japan.
Nara: Tame Deers in the middle of Nara!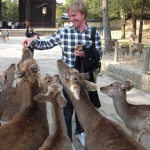 Transportation in Japan
Japan Rail Pass is a must if you come to Japan with a tourist visa and want to travel around with trains.
Seishun 18 kippu is a great value limited offer that I recommend non-tourist visa holders to use.
HyperDia is one of the few useful online timetable and route search engines there is.
Google maps version is also one of the few I've found to be useful.
CycleKyoto is about cycling in Kyoto!
Study in Japan
Are you thinking about studying at a university in Japan? Then Global 30 is your website! Download their pdf  "STUDY IN ENGLISH AT JAPANESE UNIVERSITIES"
Doshisha University is located at the imperial palace in Kyoto. I'm attending the Global MBA program at Doshisha Business School.
Japanese Language
Japanese Language Proficiency Test, Where N1 is the toughest and N5 easiest level.
Sweden in Japan
Are you a Swedish person in Japan looking for people of similar interests? Join these groups!
SCCJ – The Swedish Chamber of Commerce and Industry in Japan
YCN – Young Chamber Network. A network for Swedish and Swedish interested Japanese persons in Japan.
YCN Kansai + Young Chamber Network Kansai. A branch of YCN in the Kansai area of Japan.